Divik Ramesh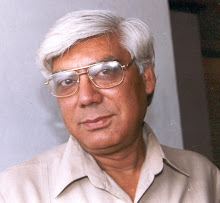 Contact me
On Blogger since October 2008
Profile views - 2621
My blogs
Blogs I follow
About me

Gender
Male
Industry

Education

Occupation

Professor

Location

NOIDA,

Uttar Pradesh,

India

Introduction
Official date of Birth is 06 Feb;1946 and real is 28 August, 1946. Born in a village KIRARI of Delhi. Studies in Delhi upto Ph.d. Have tought as visiting professor for 3 years in South Korea. Have worked as Principal of Motilal Nehru College, University of Delhi. Have published about 50 books which include 6 poetry collections, one verse play 'Khand Khand Agni'; 4 books of research and criticism(essayes); 25 books of poems, strories, drama etc. for children. Have got several International and national awards which include Grijakumar Mathur National Award, Soviet Land Nehru Award, Sahityakar Sanmaan of Hindi Accademy of NCT Delhi, N.CE.R.T's National Award for children literature, Bhartiya Anuvad Parishad Delhi's Dwivageesh Puraskar on translation work, etc. Research work for Ph.d have been done on my creative works.
Interests

writing; music; films and T.V.; sincere friendship

Favorite Movies

Fagun; Mother India; Guide; Ram aur Shyam; Ham Donon; Devdas(Dilip Kumar);Aawara;Ham aapke hain Kaun etc.

Favorite Music

Folk and light

Favorite Books

Godaan, Kamayani, Tyagpatra, Jurm Aur Saja; Shekhar Ek Jeevani;Dharti Dhan N Apna and a number of poetry books.