James Marchington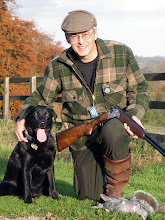 Contact me
On Blogger since June 2007
Profile views - 5447
My blogs
About me

Gender
Male
Industry

Communications or Media

Occupation

Journalist

Location

London,

United Kingdom

Introduction
Currently working as a freelance journalist, contributing regularly to titles such as Gun Trade News, Sporting Rifle, Modern Gamekeeping, Sporting Shooter and BASC Shooting & Conservation.
Interests

I've been shooting since I was 11, when my father bought me my first air rifle. Shortly afterwards he took it away again when my mother complained about the holes appearing in her daffodils. ... Over the years my dad introduced me to the huge range of shooting that we're lucky enough to enjoy in Britain. ... These days I don't get half as much time as I'd like to actually go shooting, but whenever possible I still enjoy working my ferrets, decoying pigeons, deerstalking, a little game shooting, and perhaps best of all, walking the hills for grouse.