Insect Art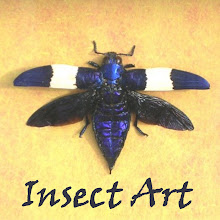 Contact me
On Blogger since September 2007
Profile views - 5885
My blogs
Blogs I follow
About me

Gender
Female
Industry

Arts

Location

Topeka,

Kansas,

United States

Introduction
Insect Art is made of real insects from around the world. They come to me dried out and all folded up. I re-hydrate them to make them flexible again, and then spread them out on a styrofoam board with sewing pins and little strips of paper. I do not put any pins through the bodies of my insects; I like them natural-looking and lifelike. This makes the insects a bit more difficult to handle, but the end result is worth it. Lastly, I choose an art background for the shadowbox frame and glue the insects onto that. The whole process takes several days, and each end result is unique.
Interests

poison dart frogs, orchids, pottery, baking, gardening, aquariums

Favorite Movies

Dead Poet's Society, Fight Club, Titanic, Seven, Ace Ventura, Glory, Garden State, Phantom of the Opera, Apollo 13, Cleopatra, American History X, The Last Samuri

Favorite Music

john mayer, the killers, darren hayes, sister hazel, matchbox 20, atmosphere, josh kelley, ingram hill, jack johnson, rascal flatts, keith urban, sarah mclachlan, ben folds five, dave matthews band, coldplay, gavin degraw

Favorite Books

The Fountainhead, Where the Red Fern Grows, Frankenstein, Marcus Aurelius's Meditations, The Iliad, The Dragons of Eden, Stiff: The Curious Lives of Human Cadavers, Cosmos, etc. etc. etc. I read almost no fiction anymore. Real things seem to be more interesting.