Diabolu Frank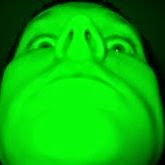 Contact me
On Blogger since August 2007
Profile views - 14824
My blogs
Blogs I follow
About me

Gender
Male
Occupation

Medical

Location

Houston,

TX,

United States

Favorite Movies

Pulp Fiction, Before Sunrise/Sunset, George A. Romero's Dawn of the Dead, Heathers, American Beauty, Braindead, Network, When Herry Met Sally...

Favorite Music

The Cardigans, A Perfect Circle, Veruca Salt, Beatles, Suzanne Vega, Elvis Presley, the Cure, Juliana Hatfield, Depeche Mode, Lyle Lovett, Luscious Jackson, Nirvana, Prince, Otis Redding, Smashing Pumpkins, White Stripes, 60's country and soul...

Favorite Books

Reference, comic, and magazines.
Your superpower is that you smell like dandelions whenever someone lies. How will you maintain your secret identity?
Does it count if I lie? If not, I just go public and let the chips fall where they may. If so, I don't do any crusading a'tall.