Sandy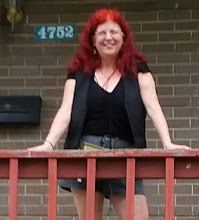 On Blogger since August 2007
Profile views - 3451
My blogs
About me

Gender
Female
Industry

Arts

Occupation

artist/author/educator

Location

St. Louis,

Missouri,

United States

Introduction
Born in St. Louis, I grew up in Webster Groves, MO. I moved to Kansas City in the 1970s, where I studied printmaking at the Kansas City Art Institute. In the 80s I lived in a log cabin in rural Missouri. That's where my four sons were born, as well as my first picture book, EARTH CIRCLES. In the '90s, back in St. Louis, I developed PictureBookMaking, a writing and art program for young children. To date I have helped more than 2000 urban children make picture books! I've also held workshops for teachers so they could learn the PictureBookMaking process. Meanwhile I've continued to develop my artwork and writing skills. Eventually my second and third books were accepted for publication: ONLY ONE WISH and BIG AND LITTLE ABC. Now I am self-publishing dozens of new books! My creative work depicts our relationships to each other and our planet. I believe that our most important tasks are taking care of Mother Earth and learning to live peacefully with one another. I hope my art and writing can help us with these tasks.
Interests

Making Art, Writing Stories, Reading Books, Spirituality, Contra and Contact Improv Dance, Dances of Universal Peace, Rollerblading, Vegetarianism, Envisioning and Creating a Better World.

Favorite Books

Books for Children: The Mountains of Tibet, The Giving Tree, The Story of Ferdinand, The Dancing Man, And To Think That I Saw It On Mulberry Street, The Phantom Tollbooth, The Moon Singer, The Magic King, The Little House, Millions of Cats, Harold and the Purple Crayon, Pat the Beastie, Sam's Teddy Bear, Mr. Gumpy's Outing. Authors of Children's Books: Stephen Kellogg, Jane Yolen, Charlotte Zolotow, Maurice Sendak, Marie Hall Ets, James Stevenson, Ezra Jack Keats, Paul Goble, Ed Emberly, Don Freeman, Gerald Mc Dermott, Anita and Arnold Lobel, Tomie de Paolo, Ashley Bryan, Margaret Wise Brown, Chris Van Allsburg, Trina Schart Hyman, Wanda Gag, Mordicai Gerstein.