Anastasia F-B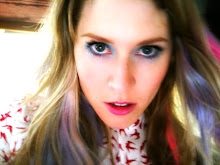 Contact me
On Blogger since May 2008
Profile views - 31105
My blogs
Blogs I follow
About me

Gender
Female
Industry

Student

Occupation

Learning!

Location

London,

United States

Introduction
Hi, I'm Ana! History is my passion -and that is not too strong a word - but I also enjoy politics, philosophy, art, literature and travel. In addition I have a deep interest in witchcraft, in all of the ancient arts. Apart from that I'm a keen sportswoman. I play lacrosse and tennis, but I love riding most of all. I have my own horse, Annette.
Interests

I have an interest in all sorts of things, a real thirst for knowledge, all sorts of knowledge. After all, knowledge is power!

Favorite Movies

I love The Craft, Donnie Darko, The Wicker Man, the original version, and Picnic at Hanging Rock.

Favorite Music

Anything from Gregorian Chant to Soft Rock, Inkubus Sukkubus in particular.

Favorite Books

Lots and lots and lots! My favourite authors are Dickens and Doestoevsky. To this I really have to add George Orwell, who I am discovering not through his novels but his essays and journalism. Brilliant, quite brilliant!